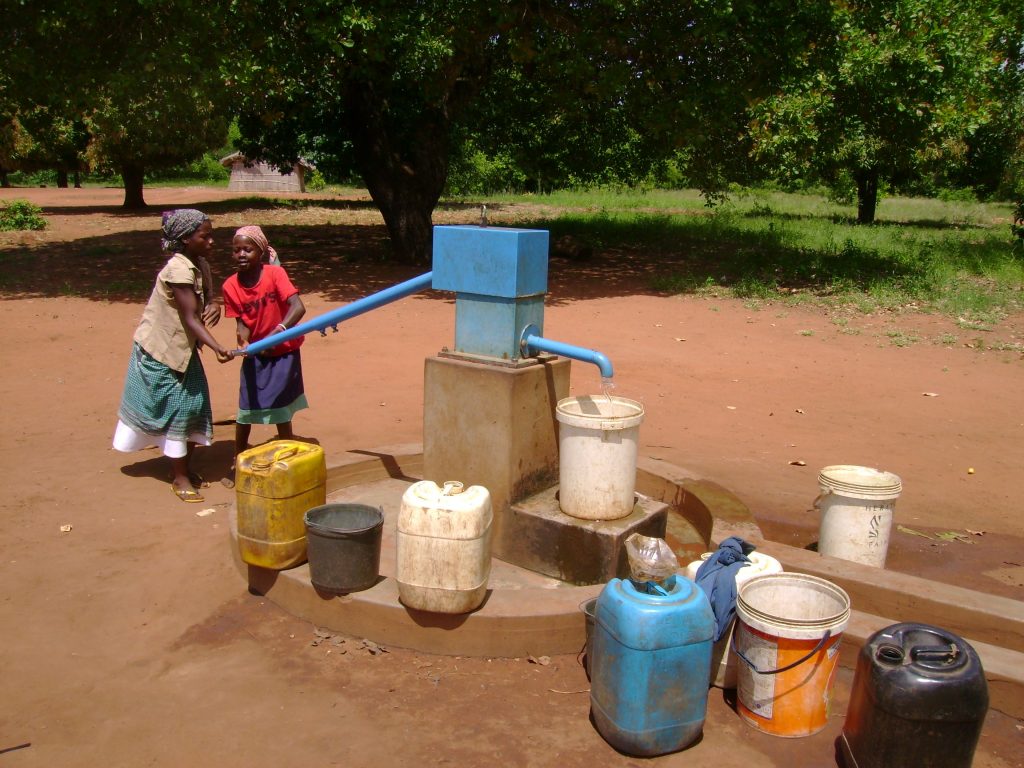 How did the BluePump project start?
My name is Paul van Beers, since 1985 I have a wide range of practical field experience in Africa with solving water problems. Let me explain why I started already in 2002 with the BluePump project, so it becomes clear that the BluePump is not "just another handpump".
In 2002 I became the director of the RWD (Rural Water Development) project, one of the largest water projects. RWD was well known and respected in Kenya at the time, with 4 local offices and a staff of 67 people. My task was to work towards the closure of the project and to transform the project into a small local organization that could continue to give professional WASH service to the local communities.
Evaluation of the RWD project
The RWD project had already realized over 1.500 water points in 15 years; dug-wells, rainwater harvesting systems, protected springs, and boreholes with a handpump. Coming closer to the end of the project, it was appropriate to look back and evaluate the impact of our work.
Overall, RWD did rather well, especially with the dug wells and protected springs, but with our handpumps, there was a big problem; Many communities complained about the quality of the handpumps. Over 50% of the pumps installed was not in use anymore, although the RWD project was there to give back-up.
How was that possible? Although we did the usual activities such as social mobilization, training local water committees to collect money for repairs, we organized spare part supplies, etc. but still many handpumps were not repaired. Why?

It appeared that the handpumps were not strong enough to resist every day pumping and broke down many times per year. The repair cost became too high; people had to pay $ 200,- up to $400,-  per year to keep their pumps working.

On top of that, organizing repairs was often a hassle, so people had to wait many weeks, sometimes months before the pump was repaired.
We were afraid that our nice RWD project would end the same as another major Dutch DHV handpump project nearby, where 1.500 handpumps were installed some 10 years before, and most handpumps were abandoned within 5 years. When we looked more into these problems, we found out that all over Africa people have the same issues with handpumps; Handpumps do not last…
When we discussed with the communities what to do about this, it became clear that they did not want a similar pump again. If we were to install a new pump, they insisted that it should be a better pump.
When we replied that such a better pump did not exist, they looked surprised and simply said: "Why you mzungus, don't just invent a better pump?"
They had a valid point that triggered the idea to start with the BluePump project; So in fact, the people in Africa themselves initiated and voted to invent a more durable handpump. However, that was easier said than done..
After my assignment with RWD, I felt strongly that this "better pump idea" was what I wanted to go for, it just made so much sense to have a better hand pump for Africa. I continued this endeavor with an in-depth study of the field performance of all handpumps on the market, their good points, and their flaws. This gave me a basic starting idea of how this durable handpump should look like and what to avoid to have similar problems as the other pumps.
Input from all stakeholders
To get more background data, I also visited many (11) handpump factories in 9 countries, in Africa as well as in India and in The Netherlands, I had long discussions on this subject with pump designers, people of SKAT, Unicef, the World Bank, NGOs, field workers, technicians, social workers, local governments and study centers such as WEDC and the IRC. They all had valuable comments in this brainstorming process. In the meantime, I contacted a few quality companies in The Netherlands to also give their technical input on how to solve specific technical problems and we made the first models for field testing. First in Angola and after that in Mozambique, Kenya, Malawi, and Swaziland, with the highly appreciated support from several NGOs such as Unicef Mozambique, Oxfam Kenya, ASAP and IRD Swaziland.
Of course, we had to solve some unexpected problems, especially when we started to install BluePumps below 60m and up to 100m. in the very deep boreholes. Therefore we had to adapt the design several times with this input from the field, but with the continuous support of our partners, we could find good solutions, which resulted in the BluePump 2015 as the final simple, incredibly sturdy and reliable design.
With over 1.500 BluePumps all over Africa, we are proud to say that the BluePump proved itself and that many NGOs and Governments now prefer BluePumps for their rural water projects.
Why is reliability so important?
It's all about trust. In the African rural communities, a handpump is often the only source of clean & safe water, especially in the dry season. Keep in mind that people do not only use the water for drinking, but also for irrigation and small livestock, for food security and some extra income. That means when the pump breaks down, everything falls apart; the crops dry out, the animals' struggle and people lose time and energy to walk many kilometers to find the nearest handpump that still works or go fetch water in the river, which is often polluted.
What makes the BluePump so special?
(1) First and foremost, the BluePump was developed from the start to last a lifetime. To do so, we used field performance data of all current handpumps on the market. We acknowledge that without this pre-information we could never have achieved the success that we have now. It is always easier to improve upon existing designs, than designing a new pump from scratch.
(2) Secondly, we were not trying to make "another" cheap pump; every detail in the design has an uncompromised focus on durability, not on reducing the cost of the pump itself. We strongly believed that sustainability is the result of reducing OPEX (operational costs), not by reducing CAPEX (manufacturing cost).
Why the name "BluePump"?
The first name we had for this new pump with RWD in Kenya was the "AfriPump"; a pump for Africa, but some years later, during later field trials in Angola, the people were referring to the pumps as their "BluePump" (or "Bomba Azul" in Portugues), and so we decided that if the users call it the BluePump, we should honor that request. Besides, it makes sense, because the color of the pump is blue.
The unique technical "selling point" of the BluePumps is that there are no fast wearing parts. For instance, the BluePump piston has no rubber seals that you find in traditional pumps, so there is nothing to wear out or to be changed. We use long-lasting stainless steel ball valves and each rod has 2 floating centralizers that can be twisted over and over again to extend their life to over 10+ years. The stainless steel rods are 2m. long with a diameter of 12mm with continuous threading, this means fewer vibrations, virtually unbreakable and easy adjustment of the length during installation.
Up to 100m deep installation
One of the main inconveniences of general handpumps is that they cannot be used effectively below 40m. This is a major issue because, in those areas where the groundwater is deep, other water sources are scarce and people are even more reliant on a handpump. Therefore we focused on the design to make sure people could pump comfortable at 80m deep. It is even possible to use the BluePump to pump water from around 100m. deep. Because you can use the same model BluePump for all depth, this is also convenient for spare parts.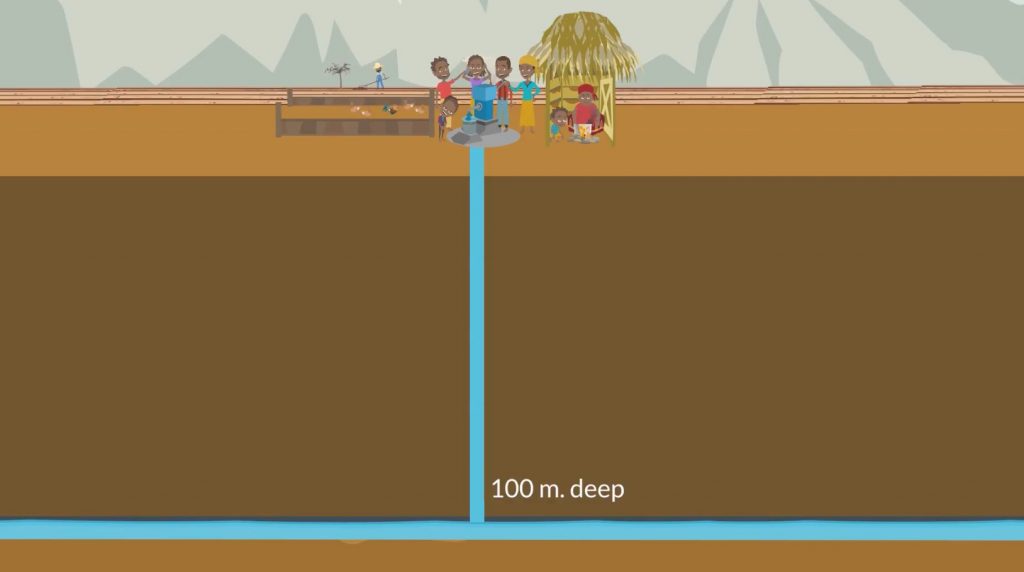 What about maintenance?
All equipment needs maintenance, in the end, the BluePump is no exception. But it makes a huge difference (also in operational costs…) if you need to repair a handpump 4 to 6 times a year, or if you only have to give the pump one time per year a simple check-u to assure another year of trouble-free functionality.
The BlueZone "Lease" Concept
For the BluePump we developed an unique "Maintenance Model", which can best be described as a "Lease Concept", in which a service provider, a company or regional organization, preferably the Water Department of a Province or District owns the BluePumps in an area (The "BlueZone") and is renting out the BluePumps to the community. We suggest that a yearly amount ofUS$ 50,- to 100,- (depending on pump density and distances) should be sufficient.
In return, the service provider makes sure that the pumps are in good condition and repairs the pump for free when needed. Because the BluePump is very reliable, repairs are rare and the service provider has a welcome additional income.

Advantages of the "Lease Concept"
In the past, NGOs and water projects donated (!) handpumps for free to the community and trained a water committee to take care of the maintenance and assumed this would work. However, it became clear that this sympathetic donation idea was not working. Although the communities "owned" the pump, they were simply not able to organize access to spare parts and technical assistance.

However, on the contrary, when e.g. a professional regional service provider owns the BluePumps in their area ("BlueZone"), this solves many problems, not only because the communities know where to go to get support, but also because the service provider has:
Access to spares, they just contact our country representative to have a local stock.
Technical staff to do maintenance and repairs (this can also be delegated to a local handpump mechanic.
Monitoring capacity, just by checking the revenues you know what is going on.

The BluePump Lease Concept, therefore, creates a "win-win" situation: The Community has a 24/7 supply of clean water with assistance, and the service provider has an additional source of income. The "win-win" guarantees a sustainable situation.
Famous BOODE Service
Having a unique design that works great is one thing, but it should also be made available for the NGOs and end-users in a professional way, so we needed a professional and reliable company to be the world distributor of the BluePump. During my early work as a hydrogeologist in Africa since 1985, I often called on the expertise and quality materials from BOODE B.V. which is one of the leading international Dutch companies for quality borehole equipment worldwide, they have a very good track record and famous service. They agreed to include the BluePump their product line and to take care of the important logistics that come with such a product.

Local BluePump representations in Africa
To get the BluePump and service closer to the users, we established in many African countries representations and contacts that have BluePumps and spare parts in stock and can give training on installation and maintenance, often provided by trained regional mechanics. They also give us continuous feedback, which enables us to constantly upgrade and improve the BluePump functionality and our service.
How far are we today?
Since the start of the BluePump project, with the help of our partners, we now provide over 1.000 communities with sustainable access to safe water; that means more than 500.000 people have every day clean water nearby, for the lowest price in Africa. For the evaluation of the BluePump performance so far, it is important to consider that we started off with a pilot design, to test in the field. Of course, we encountered aspects of improvements. For instance, we had to cope with corrosive water, we had initial problems with the centralizer and with some sockets. However, these problems were all corrected, for example, the cap (41) and spout (34) are now made of stainless steel and the centralizers (25) are also re-designed. Therefore, we consider the BluePump 2015 model as the basic final model. Small upgrades are still possible and communicated on this website.
There is now the widespread consensus of all international experts on a rural water supply that the BluePump has earned its first place as the most impressive and versatile handpump for Africa. Everyone who visits a BluePump in the field direct notes its functional design and how easy it is to install, to pump and to maintain. But for us, even more important is the honest opinion of the 500.000+ users of the BluePump; how they all agree that this is what they want for them; finally a handpump that gives a lot of water, is easy and cheap to operate and hardly ever breaks down.

Therefore it makes a lot of sense to replace broken pumps with durable BluePumps and uses BluePumps from now on in all water projects.
Old pumps can easily be replaced by a BluePump; this makes sense: Click here.
Click here, to see the BluePump Video how people in the field appreciate the BluePump.
Last but not least
We hope that we could make it clear to you that the BluePump is not "just another handpump" that falls out of the sky, but is the result of over 25 years of experience of many experts, with a strong input of the users, NGOs and all other stakeholders all over Africa. 

Bottles & Pumps
But there is more: Since 2015 we work together with the Dutch NGO "Join-the-Pipe.org" Their mission is to promote Tap-water and create awareness for plastic waste, especially caused by plastic "single-use" bottles, especially in schools. Therefore they promote the use of their durable multi-use" water bottles and public taps with drinking water. Their mission is to provide every child with its own durable water bottle, and the kids love it!
"BoGo-Bottles" Buy one = Give one
Today, many people and companies buy and use these "join-the-Pipe" bottles and by doing so, they donate the same bottle to school kids in Africa. This is our "Bottles & Pumps" project. We make sure that the kids in Africa receive the donated bottles; we put these water bottles in the pipes of the BluePump. Imagine, when a BluePump is installed in a community, the bottles come out of the pipes. As soon as the pump starts working, the kids can fill their new bottles at the BluePump. 
Every school kid its own re-fill water bottle, that is what we aim at!
Therefore, together with the FairWater Foundation based in Amsterdam, we call on all NGOs to consider using BluePumps for more sustainable results.

Do you want to know more about the BluePump and our "Bottles & Pumps" project, or you want to sponsor a BluePump for a school? Contact us